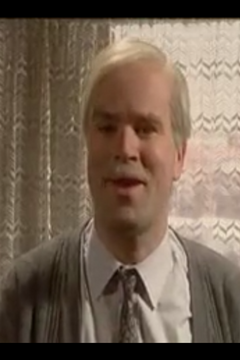 Victor McDade

Biographical Information:

Nickname(s) -
Nationality - Scottish
Age - 75

Physi

No information
Victor McDade is one of the main characters in the Scottish TV series Still Game. He is played by Scottish-Canadian actor Greg Hemphill. Victor lives in Craiglang, a fictional part of Glasgow along with his lifelong friend Jack Jarvis and best friend Winston Ingram. He, like Jack, has no family in Craiglang but he has a son named John who lives in Johannesburg, South Africa and made one appearance in the episode "Aff", but was referred to in "Flittin" as Jamie. His wife, Betty McDade, died in 1993 two years after the death of Jack's wife, Jean. He was 74 until his birthday in the episode "Smoke On The Water". Being a main character, he is seen in every single episode; including the Christmas and Hogmanay specials.
Biography
Edit
Early Life
Edit
Victor was born and raised in the fictional Craiglang area of Glasgow. At the age of fourteen, Victor witnessed a younger boy named Frank McCallum being knocked down by a tram. The tram driver asked Victor to go and get help. Victor was shook up by witnessing the tragedy and came running into Mr. Jarvis' shop upset; as the shop was the only shop on the street that had a telephone. Victor met Mr. Jarvis' twelve-year-old son Jack, and the pair started a friendship that would last more than sixty years. Victor later befriended Winston Ingram not long afterwards.
When Victor was in his early-twenties, he had a friendship with Jenny Turnbull. Jenny turned out to be Winston's girlfriend, but they were always fighting. One night, Jenny came to Victor's for comfort, and they ended up sleeping together. This incident would come back to haunt Victor later in life as he feared he may have fathered an illegitimate child with Jenny. It turned out that the father of the child was Peter "Pete the Jakey" McCormack, much to Victor's relief.
Married Life
Edit
Victor met and married a woman named Betty, with whom he had a son named John. In 1975, Victor and Betty moved into the Osprey Heights tower block. As they had moved in shortly before Hogmanay, Victor and Betty hosted a Hogmanay party in their new house. Jack and Winston introduced Victor to new friends including Tam Mullen, Isa Drennan and her husband Harry. Victor also met shopkeeper Navid Harrid for the first time. At first, Jack and Victor and did not understand Navid as he did not speak English very well, but Tam introduced Navid to Victor and Jack as having recently set up the new shop in Craiglang. On hearing his, Victor allowed Navid into his home. Sadly, Betty died in 1993. Betty's death really hit Victor badly, however, Jack and Winston pulled him back and Victor managed to sort himself out. Victor still visits Betty's grave, but he prefers to talk to Betty instead of standing there all mournful.
Life as a pensioner
Edit
Victor still lives in Osprey Heights, and lives next-door to Jack Jarvis, his best friend and Isa, whom he tries to avoid as she's very nosy and always has gossip to share, but still accepts her as a friend. Victor is bitter at the fact that his son, John, does not care too much about him. Victor sometimes envies the fact that Jack's daughter, Fiona, still cares about him despite the fact she lives in Canada. This jealousy nearly caused a rift between the two when Jack invited Victor to Canada with him. Victor soon apologised and they went on holiday to Canada together.
Victor later attempted to get attention from his son by pretending to be ill. This backfired when John flew up from South Africa to see his father. Victor had to pretend he was ill in order to convince John. John caught Victor walking about outside with Jack and was surprised as to why his father was outside when he was so ill. Jack managed to convince John to come with them to the pub, however, John was becoming more suspicious of his father's "illness". The last straw came when Victor pretended to take a fall in the pub. Victor admitted to John that he had been pretended to be ill, causing John to storm out in the huff. Victor caught up with John, who was angry at Victor for taking him away from his work. Victor apologised, but said he did it because he was fed up of John's neglect. John promised to make it up to Victor by taking his family to see him in the summer.
Victor spends most of his time with Jack. When they go out, they are usually seen at the Clansman, where they like to wind up Boaby the barman. Victor also likes to go to the bookies, although not as much as Winston. While at home, Victor, along with Jack, like to sit in front of the television drinking tea, eating biscuits and criticising the programmes.
Victor temporarily owned a car, which he bought from Danny's widow for £500, beating competition from Tam and Manky Frankie. Victor enjoyed the idea at first, but he soon became fed up with Jack's lazy attitude, as Jack was expecting Victor to taxi him around the town. Jack and his friends took further advantage of Victor's good nature, when they had a wild evening at the Clansman and drunkenly requested that Victor give them a lift home; even though it was past midnight. They got into Victor's car completely drunk, and Eric had a go at the others in the back seat about eating, seconds before he threw up in the front passenger seat. Victor had had enough of the car, due to the general expenses of running the car such as: road tax, insurance and petrol. Victor sold the car to Tam, but seconds after selling the car, it was destroyed by a vengeful Manky Frankie dropping a fridge on top of it from the window of his flat.
Characteristics
Edit
Physical description
Edit
Victor is a tall and skinny man. He has light skin with grey hair and sports a moustache. Victor is usually smartly dressed wearing a shirt and tie with smart trousers and a tanktop. Early in the series, Victor was seen wearing a bunnet like Jack, but later wears a trilby hat; which makes him more distinctive from Jack.
Personality
Edit
Although he is sometimes depressed with his life as a pensioner, Victor tries hard to have a good time. Victor is sometimes jealous of Jack. This is due to Jack having a family that cares about him, as well as having Sky TV. Compared to the other pensioners of Craiglang, Victor tends to have higher morals. This was evident when Victor disapproved of people stealing electricity during a particularly bad winter, although he soon joined in. Victor is known to be tight-fisted, as he rarely has his electric fire on due to how much energy it burns.
As a pensioner, Victor keeps reasonably well. However, like his friend Jack Jarvis, Victor is just as lazy. Victor shares Jack's pastime of sitting in front of the television eating biscuits and drinking tea. Victor drinks practically every day, although he is not an alcoholic. Rarely, Victor can be seen smoking a cigarette. Being a pensioner, Victor does take colds and flus. He tried to take advantage of this by pretending to his son, John, that he was really ill. This plan backfired when John flew over from South Africa and discovered that there was nothing seriously wrong with his father.
Sexuality
Edit
Victor is a heterosexual, as he was married to Betty for many years. In the episode "Hatch", it was rumoured that Victor and Jack were gay. This was due to Isa catching both Jack and Victor in a compromising situation when both men were in their pyjamas. It turned out to be a misunderstanding, as Jack was examining a boil on Victor's buttock. Due to his close friendship with Jack, Victor has been jokingly referred to by Winston as a "poof". Despite this, neither Victor nor Jack are gay in the slightest.
Relationships
Edit
Victor was happily married to Betty for many years, until her death in 1993. Victor was seriously cut up by Betty's death and went through a period of severe depression. With the help of Jack and Winston, Victor managed to recover. When he was married to Betty, Victor was protective of her, and was furious when Jack vomited on Betty during a Hogmanay party. Victor and Betty had a son together named John. Victor still visits Betty's grave, but he prefers to have a chat with Betty, as if she was still alive.
John McDade
Edit
Victor's relationship with his son, John, is somewhat strained. As John lives far away in Johannesburg,
Victor does not see his son very often. Although John is busy with work, he uses this is an excuse not to contact his father very often. Victor is often bitter about his son's uncaring attitude. One time, Victor tried to pretend to John that he was seriously ill, but his plan backfired when John flew up from South Africa to see him. On discovering that Victor was well, John was furious. Victor apologised, but rebuked John for not caring about him. The two reconciled, but in the following years, John has continued to be distant. In the first episode of Series One, "Flittin"; Victor referred to his son as "Jamie" but in later episodes, he is referred to as John.
Jack Jarvis
Edit
Victor's closest friend is without doubt, Jack Jarvis.