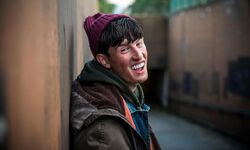 Methadone Mick is a character in Series Seven, Eight and Nine of Still Game, he was introduced into the series as a replacement for Pete The Jakey after the character's death.
Biography
Edit
He is a young homeless man who was a friend of Pete the Jakey. In the epidode "Job", Jack and Victor help him get a job. In the same episode, they take him to a home dentist, who gives him a set of false teeth to replace his rotten ones.
In later episodes, Mick is once again jobless but still has his false teeth.
Series 7
Edit
"The Undrinkables"
"Job"
"Small Change"
"Heavy Petting"
"Down and Out"
"Fly Fishing"
"Grim Up North"
"Balls Up"
"The Fall Guy"
His actor Scott Reid stated that he was only 12 years old when Still Game first ended.