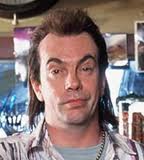 Boaby the Barman

Biographical Information:

Nickname(s) - Troy the Gardener
Nationality - Scottish
Age - between 36 and 41

Physical Description:

Gender - Male
Hair Colour - Brown
Skin Colour - Light

Family Information:

N/A

Affliation:

Occupation - Landlord/Barman of the Jenny's/Clansman
Affliation: Jenny's/Clansman

Potrayed by:

Gavin Mitchell

Boaby (Scots form of Bobby) is the landlord of "Jenny's" (formerly known as the Clansman), the local pub. He is played by Scottish actor Gavin Mitchell.
Biography
Edit
Early Life
Edit
Not much is known about Boaby's early life. However, Boaby has mentioned that he has worked in the Clansman since he was eighteen. Boaby has worked in the Clansman since at least the early 1980's.
Landlord of the Clansman
Edit
At some point, Boaby became the landlord of the Clansman. His regular customers are OAPs such as Jack, Victor, Winston, Tam, Eric, Isa and Pete the Jakey. Younger people such as Peggy and Charlie are known to frequent the pub too. Boaby laments how his pub isn't popular with young couples, although this is due to his sarcastic nature and the fact his pub isn't glamorous. Boaby has tried to make his pub more popular by holding theme nights such as a pub quiz and a scampi and tarot night.
Towards the end of the fourth series, the Clansman was sold from under Boaby by the brewery. As a result, the Clansman was set to be closed down and demolished, to make way for cottages. It turns out that the property developer was the son of Pete the Jakey, and hence, the pub was not demolished. Instead, the pub was renamed "Jenny's", in honour of Jenny Turnbull, the mother of the property developer.
Boaby still works in Jenny's, although he is taunted by Stevie Reid for "working in a pub that doesn't belong to him."
Career as a pornstar
Edit
At some point during the mid-1990's, Boaby had a go at being a porn star. His alter-ego was 'Troy the Gardener.' In the film, Boaby was seen telling naked women that their lawnmower wasn't working, then he had sex with them. Boaby tried his best to keep this secret from everyone else, but his tape was discovered years later by Tam, who found it in Boaby's stockroom. Tam promptly showed it to the other residents in Craiglang. Tam let slip that he knew about Boaby's porn tape when he accidentally called him "Troy".
Characteristics
Edit
Physical description
Edit
Boaby is a man of average height. He has light skin with brown hair, which he sports as a mullet. Boaby tends to be casually dressed.
Personality
Edit
Boaby isn't a believer of the phrase "the customer is always right" and usually gives sarcastic comments with his pints, although the regulars give him some backchat if he gets too big for his boots. Boaby always has a new nickname for Jack and Victor whenever they come in the pub, although they come up with a comment to put Boaby in his place, and a swift "two pints, prick". Boaby hasn't had much luck with women. A potential romance for Boaby was with a young woman named Margo, but he blew it when he slapped her backside, causing Margo to beat him up. Later on, Boaby fought Stevie the Bookie over Stacey, the girl who worked in the pizza shop. Neither man was successful, as they were both battered by Stacey's father, the boxer Jim Watt.
Relationships
Edit
Romantic relationships
Edit
Kelly-Ann
Edit
It was first mentioned in the very first episode that Boaby was in a relationship with Kelly-Ann when telling Winston's grandson a story about the man that he would be fighting the following Wednesday.
Boaby first met Margo at the Clansman, when she auditioned to be the quizmaster for Boaby's quiz night. They both found that they had a mutual attraction for each other, and Boaby thought he'd ask Margo to go out for a curry after the quiz. Margo agreed, as she loved curry. Boaby thought he'd chance his arm and slap Margo's bottom, but this proved to be a fatal mistake. Margo was highly offended and beat Boaby up. After that, Margo stormed out of the Clansman, and Boaby never saw her again.
Boaby met Stacey when she started working in the new pizza shop in Craiglang. Boaby really fancied Stacey, but his confidence was shattered when Stevie the bookie started chatting Stacey up. After a bit of confidence, Boaby chatted Stacey up again, and she still seemed to like him. Stevie confronted Boaby and nearly started a fight with him. It turns out that Stacey was the daughter of the boxer, Jim Watt, who knocked both men out. After that, neither Boaby or Stevie saw Stacey again.
Fiona Jarvis
Edit
Boaby used to go out with Jack's daughter Fiona sometime before she emigrated to Canada. This is mentioned in Still Game live at the Hydro. It turns out they actually had sex, causing Jack to knock Boaby out.
Craiglang locals
Edit
Boaby tends to have a love/hate relationship with the regulars of the Clansman. Boaby always enjoys winding up Jack and Victor, although they always give him some abuse back. Although the locals comment on how much they "hate" Boaby, they don't really hate him as he runs the only pub in town. Winston has often caused trouble for Boaby, and this has caused Boaby to bar him. Another customer whom Boaby usually has a problem with is Tam, who refuses to pay for his drinks. Boaby is often wise to Tam's tricks in order to avoid gaying for drinks. Boaby shows repect for Isa and has a problem with anyone who does her wrong. While Navid has thought that Boaby is a bit of a joke, Navid showed his support for Boaby when the pub was in danger of closing. The person that Boaby has had the most difficult relationship with is Stevie Reid. Like Winston, Boaby hates Stevie for being so arrogant and cocky. They even fought each other over a girl, before they find out that she was related to Jim Watts, a famous boxer.